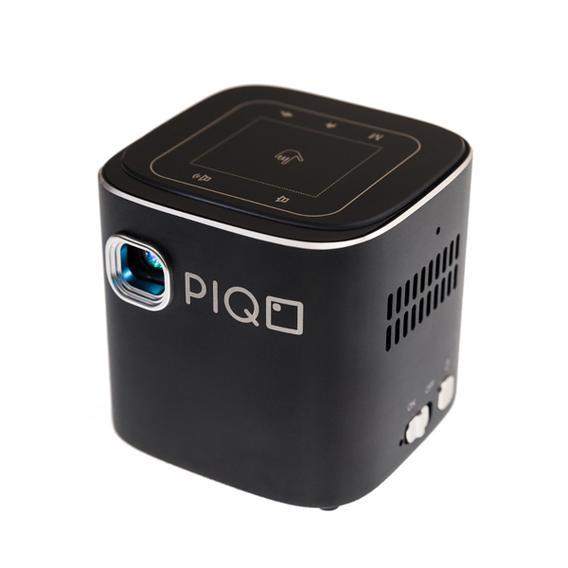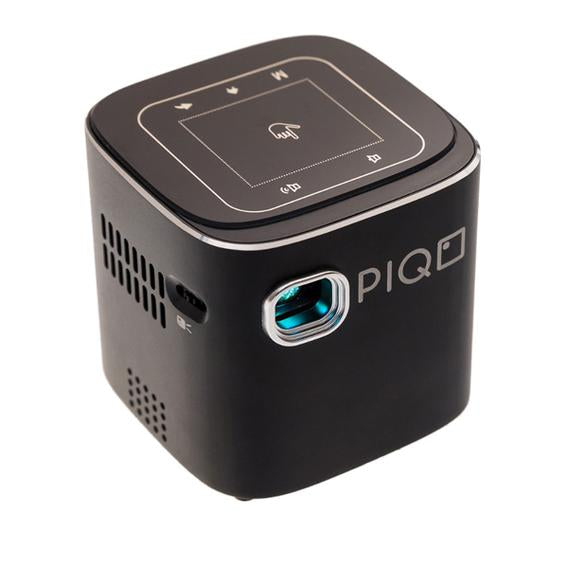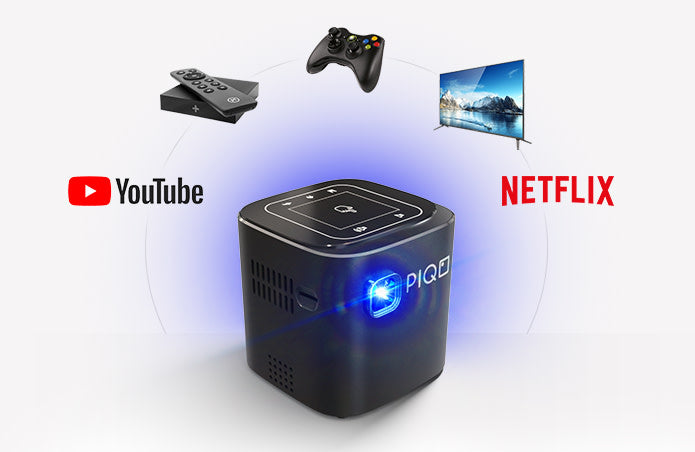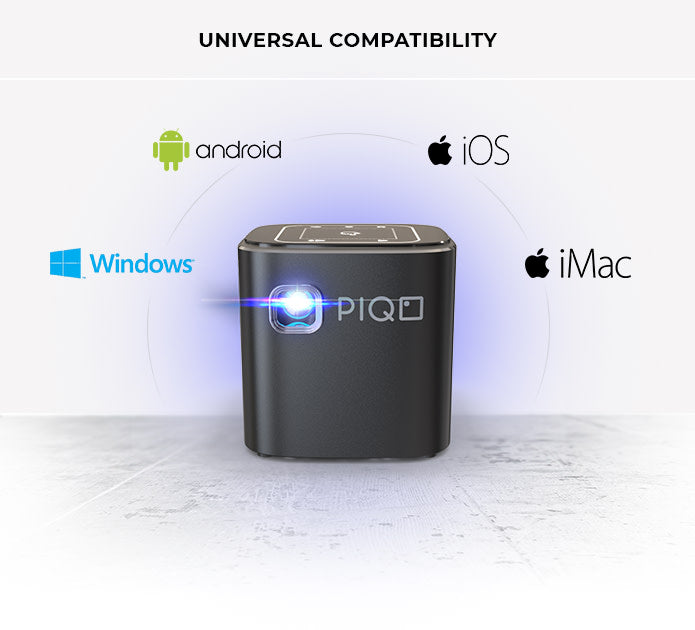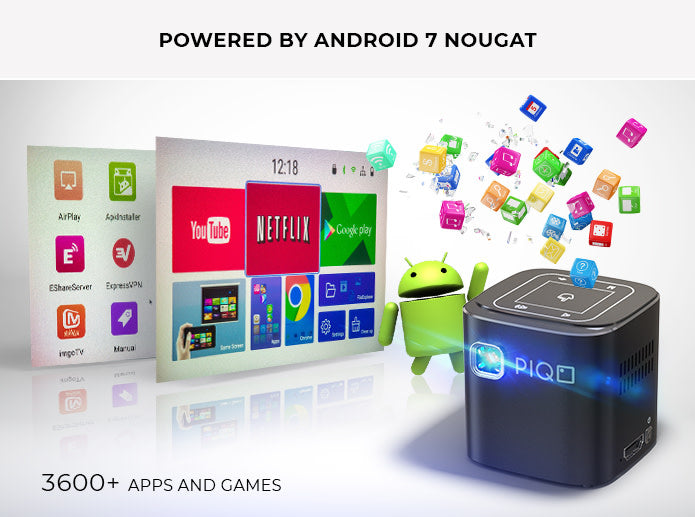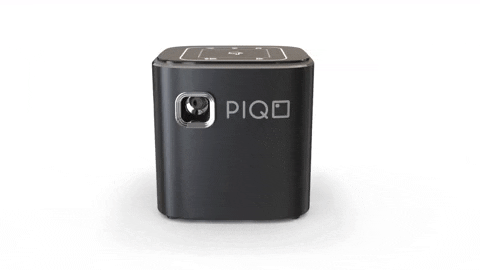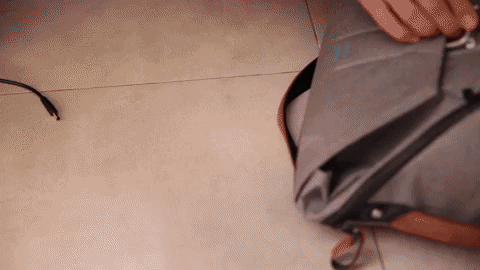 PIQO Projector - The world's smartest 1080p mini pocket projector
Sale price

$683.01
Regular price

$883.99
(/)
The PIQO Projector is an innovative design that's compact, durable, and intuitive to use. PIQO was designed to be the first projector that could be effortlessly taken from place to place. Now, you'll have cinematic power and Hi-Fi speakers with you wherever you go.
Main Features:
Convenient and easy size: 2.25 in x 2.25 in x 2.25 in
1080p, 240 in, 200 lumens display
Powered by Android so you can watch Netflix, YouTube plus other streaming services anytime, anywhere
Long 5 Hour Battery Life* with 15 minute Quick Charging for fast use
Intelligent Keystone Auto-Correction Projection

*Please note quoted battery life was under perfect lab conditions with minimal brightness, volume, connections, and interference. The volume up to the max and brightness up the max, this will may affect the battery life.

Vibrant, professional colours and deep blacks deliver strong contrasts while staying sharp at up to 240 inches thanks to the Piqo projector's 200 ANSI lumens projection power. Whether it's day or night, you'll enjoy an HD viewing experience in stunning clarity.
Piqo supports video formats up to 1080p HD for the sharpest picture you've ever seen from a projector.
Competing mini projectors boast half the luminosity of PIQO (or less), resulting in shadowy, grainy images.
Piqo projectors product a clear and crisp HD image at up to 240 inches. This is over twice the size of even the biggest commercially-available TVs and 10x the size of HD monitors that cost thousands. You've never seen sports, superhero action, and animated antics if you haven't seen them in their 240-inch HD glory.
Intuitive and touch-sensitive, you can do anything on PIQO with one finger. Its touchscreen allows you to select your media, apps and more with drag-and-click simplicity.
With 50 hours of music playback and 5 hours of video playtime, PIQO packs a punch to its rivals in battery life. Whether you're having a movie marathon or a party that lasts all weekend, PIQO won't quit. When juice is low, a quick recharge ensures the good times don't end.
Windows, Android, iOS—whatever your device, PIQO can connect to it seamlessly and instantly. Connect to your phone or computer for work, video chatting, or creative projects. Connect to your favorite gaming console for an insane 240-inch multiplayer action. Connect to your tablet and cast YouTube on your bedroom wall before going to sleep. Piqo can connect wherever you are.
Piqo has WiFi Connectivity, but when no internet is available, you still have access to all your media via PIQO's internal memory. You can even download shows and movies from YouTube and Netflix for offline viewing.
In today's technological world, pocket projectors are a rarity. Companies are releasing newer, smaller, and more powerful ones, indicating a recent trend, but unlike wireless earbuds, phones, laptops, or digital cameras, these mini projectors are rarely seen. With Austic you get the best in class small projector that is turning heads all over the world.

What's So Special About It?
The height, weight, and width of this cube-shaped projector are all less than 2.5 inches/5.7cm, making it the size of your palm. Its uniform shape allows it to stand on its own while projecting pictures (though you may want to prop it up on a stand to get a better view of the picture), it may fit well into your bag if you plan to carry it around.
The PIQO smart mini Projector is a unique design that is both lightweight and robust, as well as simple to use. PIQO was created to be the first projector that could be easily moved from one location to another. You'll now be able to take cinematic strength and Hi-Fi speakers everywhere you go.

Trust Our Quality and Delivery
With us you get the best in class delivery anywhere in Australia. These mini projectors are delivered to you by our expert delivery men and skilled individuals at competitive prices.
Choose options